On Energy Awareness & Micro-Grids
A TEDxTalk by
Ryan Wartena
Introducing the Internet of Energy:
How will the Internet merge with the power grid and support renewable energy?  We have spent the past couple of years developing strategies and technologies to enable the world to run on renewable energy with networked energy storage which we call the Internet of Energy.  I'll explain the methods, technologies and how everybody is needed to help pro-create and operate it.  Becoming energy aware and participating in an Internet of Energy is critical for us to implement our next generation of a healthy electrical energy system.  Almost everything we do requires energy and we have a natural imperative operate energy in a sustainable way.  Yet, this is so far from how energy is currently generated, distributed and utilized.  The Internet of Energy is platform of technologies to enable everyone to ProCreate their own energy system that provides personal/local benefit and is connected to the greater energy network.  Tune in, stay in and be the energy network.
Creativity Training
Thinking quickly on your feet is an admirable trait, but thinking more slowly can also be to your advantage. You don't want to bypass the "play" moments of your creative life, because they yield stunning insights and new directions. Combining technology landscapes is a perfect opportunity to think at more leisure. Truth may emerge after the conscious thinking takes place. Play this game from the Electric Forest.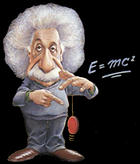 For the first time, event coverage includes creativity training to help you make best use of the presentations, both as you absorb the information and then put it to use.
Visit the Einstein Moments site for more information. It was developed for The Electric Forest to help participants discover genius within themselves.
A phone call with Ryan Wartena
Supplemental Content
Presentation Slides (pdf)